Categories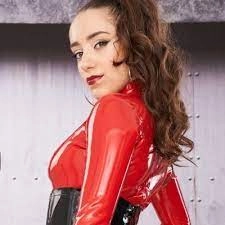 Miss Medea Mortelle
Femdom and BDSM active
-Therapeutic and Tantric BDSM: play for self-awareness and true connection, exploration of feelings and deeper traits of being-exhibitionism: play in public or in front of an audience; showing off slaves; provoking and flexing
-Handjobs: I just love driving men crazy with hand jobs.

-Cuckolding: a deep-rooted tendency

-Dirty Games (Scat and Piss): My friends don't call me the peeing queen for nothing and I have the reputation to shit like a fairy. I like to educate my toilets under coercion too. In the field of dirty games I have few inhibitions and I also play with other bodily fluids such as sperm and menstrual blood.

-Foot Fetish: Nothing is better than a sub who massages my feet extensively and sucks, nibbles and bites my toes!

-Role-play in which my sneaky, playful dominance bursts out: As teen dominatrix, revengeful schoolgirl, neighbor or mean stepdaughter. I have a personal inclination towards incest and Little Girl games and do believe that it can go hand in hand with femdom.
-Clinic Games give me the utmost pleasure. Whether it's needles or dilators, as a nurse I always have a grin on my face. Cutting, branding and more extreme but controlled practices also excite me.
-Transvestite Training, Sissification and Whore Training: Men who make out with each other turn me on. For that matter, I don't care if they are straight, bisexual or gay.
-Analsex for men: My experiences range from gentle, tantric prostate massage, over strap-on to fisting.
-SPH: I am a master at small cock humiliation
-Disgust training: Nothing gives me more pleasure than seeing my slave suffer.... Pre-chewed food, insects or dog shit? The subs set the boundaries
-Flagellation: corporal punishment by strokes and whippings
-CBT: Cock and Ball Torture is my greatest passion!
-Findom, Cash and Go, Money Slave Contracts: Yes, I am horny for money, but the ethical aspect is just as important to me as the turn-on
-Petplay: I raise dogs and pigs and am a cat myself
-Shibari: the art of bondage
-Verbal Humiliation, Dirty Talk and Fantasy Scripts: What turns on more than words?
-"The Forbidden": All that is prohibited attracts me. As long as all parties are consenting and no one undergoes permanent harm, I believe it okay to act out such desires in real life (SSC and RACK). All other fantasies may find their expression in imagination and fantasy dirty talk. Thoughts are free.
-long-term education and completely rightless slaves
-cleaning slaves, massage slaves, cooking slaves, shopping slaves
-Slaves who pay in order to perform my daily tasks: video editing, proofreading texts, answering messages
-Odor therapy and panty sniffing
-Torture games and pure sadism
-Peculiar types of play: I love doing things for the 1st time!
-Orgasm control, denial and prolongation
-Chastity and being a Key-holder: games with dirty talk or real penis cage / female chastity belt
Curriculum vitae
I have been writing novels in German since I was a teenager and by now some of them have been published. Also at a tender age, I discovered yoga and became a yoga teacher at 17. After graduating from school in 2016, I studied "Indology, Tibetology and Mongolian Studies" at University and taught weekly yoga classes. During my studies I also completed training in Thai massage and holistic bodywork. After my first trip to India, I started teaching Tantra meditation and giving workshops at sex-positive parties (topics: consent, safer sex, ice-breaking and holistic connection). 2019 was also the year of my explosive BDSM discovery. After an ephemeral training at the dominatrix studio Black Fun, it was clear to me that I have no desire for the classic dominatrix performance in real life and am much more interested in the holistic aspect of BDSM. For me sexuality has to be authentic and real. As a true exhibitionist, I'm happy to share my free sexuality with you through my erotic films!
I have already been around a lot in the world. Especially my extensive travels to India and Central America have shaped me significantly. During my time abroad, I attended numerous continued education courses in the field of Astanga Yoga, Meditation, Sound Healing and Tantra. By now I know that I am a very multi-faceted person and I have no intention of ever limiting my personal development.
By using our site you agree to our use of cookies to deliver a better site experience.